Find a business savings option that's right for you
Business savings made easy. Take care of your basic savings needs for your organization.
Earn higher dividends on your savings with this premium business savings account.
Invest in our flexible CDs to help you save with a higher rate of return.
Health Savings Account (HSA)
Tax-free savings for your employees' health. Use an HSA as part of your health care plan.
"After starting my own business, I found that my other bank I used for personal use would not satisfy my immediate needs. I went to Directions and they got me straightened out very quickly! Using the credit union is quick, easy, and convenient. And no bizarre fees!"
Online & mobile banking for business
Gives you secure, 24-hour access to your business accounts. You can view your online banking accounts, apply for loans, order checks, enroll in bill pay, and much more.
Gives you convenient, on-the-go options for managing your bank account(s). with features like remote deposit capture, your phone becomes a true banking branch on-the-go.
Learn about your business
savings account options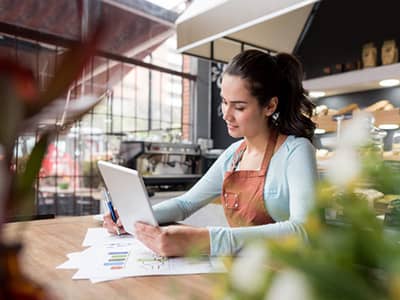 A basic business savings account, business primary savings is great for organizations that don't always plan to have a high balance.
Membership requirement: $5 minimum balance
Monthly fees: $0
Afees: $0
Dividends: competitive interest rate, compounded quarterly
Effective 11/09/2022
Business Money Management Account**
Enjoy higher dividends than a standard business savings account.
Minimum balance: $2,500
Minimum operating balance: $2,500
Monthly fees: $0
Annual fees: $0
Dividends: competitive interest rate, compounded quarterly
A variety of options to put your savings to work for you. All business certificates offer a fixed dividend rate/annual percentage yield (APY).
Rate: Fixed
Minimum balance: $500
Minimum opening deposit: $500
Terms: Available in as few as three-month and as many as 60-month terms
Health Savings Account (HSA)
Business owners can suggest a directions health savings account (HSA) to their staff.
HSA available to members enrolled in a High Deductible Health Plan (HDHP)
Member cannot be on Medicare or eligible to be claimed as a dependent
Contributed funds are not subject to federal income tax (subject to IRS guidelines and limits)
Funds rollover and accumulate year to year and may be used to pay for qualified medical expenses
Get started with a Directions business savings account
Call Directions at 419-841-9838 or 1-888-508-2228 (toll free) to learn more about opening a Business Savings Account