Find The Mortgage That's Right For You
4 Easy Steps To Buy Or Refinance A Home
We do business in accordance with Federal Fair Housing Law and the Equal Credit Opportunity Act.
Have questions? Don't hesitate to ask. Call or stop by your local Directions office and we'll help answer any questions you may have.
---
Contact a Directions Credit Union (NMLS#409435) Mortgage Loan Originator
Toledo Area & Southeast Michigan
Learn About Our Mortgage Options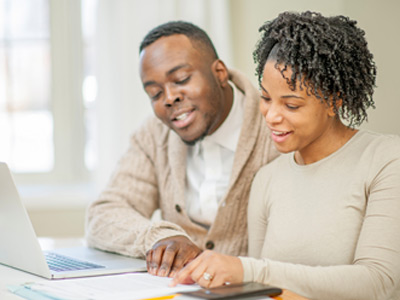 ---
*The annual percentage rate (APR) is based on a $150,000 loan amount, which includes 20% down payment, application fee, appraisal fee, credit report fee, etc. The annual percentage rate (APR) is an interest rate that is different from the note rate. The APR is designed to measure the "true cost of a loan". This includes some costs/fees associated when obtaining a mortgage loan.
Financing a New Home
We get it. Buying and securing financing for a home takes a lot of effort and can get stressful, too. We serve our members by taking the uncertainty and worry out of the equation with a personal touch that makes purchasing a home as stress-free as possible with these financing options:
A great fit for home buyers with plans to stay in their new home for a number of years

Fixed-rate home loans available for 10, 15, 20, and 30 year terms
My wife and I were able to purchase our first home in the community we love. We can start a family and begin the rest of our lives from the help we received from Directions and their excellent staff! Chris K. Ottawa, Ohio
First-time Homebuyers
Buying your first home is both exciting and stressful. Directions has worked with thousands of first-time home buyers, educating and guiding each of them through the purchase of a first home. With our local lending decisions and member-first approach, your home-buying experience will have a personal touch that you just can't find by working with a big bank.
Ask about the First-time Homebuyer Program:
Access to educational guidance tools and resources
Lower down payments
Several closing cost options
Ready to buy your first home? Get started now.
Financing for New Construction
Build your dream home from the ground up with a new construction loan from Directions. While most lenders require two closing terms, Directions offers competitive closing costs and only requires one closing term for the entire project. No need to pay closing costs a second time.
Finance up to 95% of the value of your purchase

Only pay interest during your new home's construction phase

Competitive interest rates

Construction loan rates based off current published rates

See the lot you love, but not ready to build?

Directions can finance the lot for your future construction

With more than a dozen locations throughout Ohio, we're in your region and ready to help you through every step of the financing process for your new construction

We have direct relationships with dozens of home builders in the region
Ready to Start Building? We're ready to help.
Directions Credit Union is a proud member of the Toledo HBA.
Refinancing Your Mortgage
Directions can help put money back in your pocket. Refinancing your mortgage can be a smart way to build more equity in your home or lower your monthly payments. Not sure if refinancing is the right option for you? Give us a call and one of our refinancing experts will talk you through what it means and help you determine whether refinancing is a good option for you.
Directions has saved consumers millions of dollars through smart refinancing strategies.
Refinancing can lower your minimum monthly payment so you can save more now, or build equity in your home faster.
Refinancing the equity you've already built can help you pay for important life events such a home improvements, school tuition and more.
Cash-out refinancing available; refinance more than what you owe on your mortgage to get cash now.

Up to 80% loan-to-value (LTV)

Rate and term refinancing available.

Refinance your mortgage to get a lower interest rate or change the terms of your loan.
Up to 95% LTV
Learn More About Homeowner's Insurance
Homeowner's insurance—you have to have it, but you don't have to pay an arm and a leg to get it. Learn more about homeowner's insurance programs and rates available through Directions.
Read More